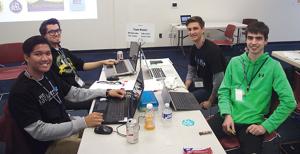 Posted: Friday, April 7, 2017 4:00 am
Tracy Press
By Denise Ellen Rizzo
An app to track household water use recently propelled a team from Tracy High School into first place at the second H2O Hackathon.
A dozen teams of students from six county high schools went head to head March 25 at the San Joaquin County Office of Education in Stockton, including three teams each from Tracy High and West High. Their objective was to use the IBM Bluemix platform to imagine and then build an application or a game to meet one of three goals inspired by California's water issues.
The app that won the Cal Water Golden Spigot Award was designed by Tracy High's Team Rocket. In essence, the app translates the technical terms on a water bill into graphics and straightforward language. It helps estimate monthly water costs based on a flow sensor that tracks the water going through the user's pipes.
Team members Colby Leiske, Tyler Topulos, Mitchell Ledda and Steven Taruc each received a mini computer from IBM, and they divided a $3,000 cash prize.
"I've never done a competition like that — somewhat intimidating," said Leiske, a senior. "We were presented with three different problems, and you got to pick one that you could make the best or had the biggest issue."
Pulling out their laptops around a table, the four students worked together to brainstorm ideas. Leiske said he was the main developer who wrote the app for Team Rocket, but they all collaborated on the project. Each time one person made a change, he said, the others would refresh their screens.
"We had to work pretty fast," he said. "Seven hours of work time and everything was done from scratch. It was awesome. All really excited when we won."
The coach for the Tracy High teams, Dean Reece, said it was the first time his school had taken part in the county competition, which began last year. To prepare, he spent a Saturday learning about the IBM Bluemix platform.
"I tried to learn how to build an app, and then I came home and showed the students how to access links and use the platform," he said. "And IBM provided them with tutorials to build an app, step by step, and how to modify it for your needs."
Reece said the students had two months to get ready, and he also had them research water issues.
After the winners were announced, Reece said he was proud of his students.
"It was outstanding," he said. "They had an innovative design — a fully functional app. This isn't a toy. It's what app users use."
Although the winning app is not available to download, sample data can be viewed on the H20 Hackathon website.
Two West High teams also came away with prizes. Wolfhack Beta came in second and Quantum Wolfhack placed third. Both four-person teams were presented with $500 in cash.
"As far as learning 21st-century job skills, this really hits the nail on the head," said Bret States, coordinator at the SJCOE Office of STEM. "It involves collaboration, working under deadline pressure, using technology, cooperating as a team and presenting an idea and a business model to experts."
The event was co-organized by iHub San Joaquin, which seeks to cultivate innovation and entrepreneurship in the region, and supported by a partnership of local businesses, government and other organizations.